Stock Portfolio Organizer
The ultimate porfolio management solution.
Shares, Margin, CFD's, Futures and Forex
EOD and Realtime
Dividends and Trust Distributions
And Much More ....
Find Out More Here
WiseTrader Toolbox
#1 Selling Amibroker Plugin featuring:
Advanced Adaptive Indicators
Advanced Pattern Exploration
Neural Networks
And Much More ....
Find Out More Here
Tags:
trading system, amibroker
Hi…the candle colour rules are same as SARVANI.V5. Green candle kissing the green line is a good buy, Red candle kissing the red line is a good sell.Teal colour is transition between green to red and vice versa.The boxes indicate MACD crossovers.
The buy and sell logic were totally changed. The buy logic is now based on
ADX and the price crossing the resistance based on EMA. The screenshot is enclosed. The code is based on EOD data, I believe it should work for INTRADAY also. Please rate it if you like it.
Screenshots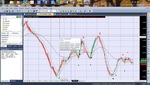 Indicator / Formula
Copy & Paste Friendly
MYPERIOD=Param("MYPERIOD",5,5,10,1);
MYO=EMA(O,MYPERIOD);
MYH=EMA(H,MYPERIOD);
MYL=EMA(L,MYPERIOD);
MYC=EMA(C,MYPERIOD)*OBV()/Ref(OBV(),-1);
MYCC=EMA(C,MYPERIOD);
MYV=EMA(V,MYPERIOD);
MYAVG=(MYO+MYH+MYL+MYC)/4;
MYPIVOT=(MYH+MYL+MYC)/3;


PlotOHLC(MYO,MYH,MYL,MYCC,"SARVANI.V6 ",IIf((V>Ref(MYV,-1) AND MYC>MYO),colorGreen,IIf(MYC<MYO,colorRed,colorTeal)),styleCandle);
PlotPR=Param("plotperiod",6,5,10,1);
Plot(EMA(MYH,PlotPR),"",colorGreen,styleLine,0,0);
Plot(EMA(MYL,PlotPR),"",colorRed,styleLine,0,0);
RESIS=Param("MAJOR RESISTANCE",60,30,80,1);
Plot(EMA(MYC,RESIS),"",colorBlack,styleLine,0,0);

Buy=Ref( ADX(),-1)>20 AND PDI()>MDI() AND MYC>2*Ref(MYPIVOT,-1)-Ref(MYL,-1);
Sell=Cross(MDI(),PDI());
Buy=ExRem(Buy,Sell);
Sell=ExRem(Sell,Buy);




PlotShapes(Buy*shapeUpArrow,colorGreen,Layer=0,yposition=MYL,Offset=-50);
PlotShapes(Sell*shapeDownArrow,colorRed,Layer=0,yposition=MYH,Offset=-30);


IND=Cross(MACD(),Signal());
PlotShapes(IND*shapeSmallSquare,colorBlack,0,yposition=L,Offset=-30);
IND1=Cross(Signal(),MACD());
PlotShapes(IND1*shapeSmallSquare,colorOrange,0,Yposition=H,Offset=60);



Title = Name() + " " + Date()+" " + EncodeColor( colorBlue ) +"**SARVANI.V6***" +EncodeColor( colorRed )
+ " OPEN.... " + O + "... HIGH... " + H + "... LOW... " + L + " ...CLOSE.... "+ Close + "...VOLUME INC. %..." + ((V-EMA(V,3))/EMA(V,3))*100 + "\n";
13 comments
Leave Comment
Please login here to leave a comment.
Back