Stock Portfolio Organizer
The ultimate porfolio management solution.
Shares, Margin, CFD's, Futures and Forex
EOD and Realtime
Dividends and Trust Distributions
And Much More ....
For Portfolio Manager Click Here
WiseTrader Toolbox
#1 Selling Amibroker Plugin featuring:
Advanced Adaptive Indicators
Advanced Pattern Exploration
Neural Networks
And Much More ....
Find Out More Here
Price Oscillator for Amibroker (AFL)
Tags:
oscillator, trading system, amibroker
I used this in the DSE market which gave me good buy sell signals. I've collected it from one of my seniors and haven't modified it. I'm sorry i don't know the author to whom the thanks should go. Just wanted to share with others….
Screenshots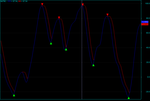 Similar Indicators / Formulas
Indicator / Formula
Copy & Paste Friendly
_SECTION_BEGIN("Price Oscillator");

m = Param("Periods", 10, 5, 20, 1 );
n = Param("Average", 4, 3, 10, 1 );

Var2=(High+Low+Close*2)/4;
Var3=EMA(Var2,m);
Var4=StDev(Var2,m);
Var5=(Var2-Var3)*100/IIf(Var4==0,1,Var4);
Var6=EMA(Var5,n);
Var7=EMA(Var6,n);
WW=(EMA(Var7,m)+100)/2-4;
MM=HHV(WW,n);

Plot(ww, "WW", colorBlue, 1);
Plot(mm, "MM", colorRed, styleThick, 1);
A=WW;
B=MM;
Hi = IIf(A > B, A, B);
Lo = IIf(A < B, A, B);
Color = IIf(A > B, colorBlue,colorRed);
PlotOHLC(Lo,Hi,Lo,Hi,"",COLOR, styleNoLabel | styleCloud);
Buy=IIf(ww>Ref(ww,-1) AND Ref(ww,-1)<Ref(ww,-2) AND ww<50,20,0);
Sell=IIf(ww<Ref(ww,-1) AND Ref(ww,-1)>Ref(ww,-2) AND ww>50,20,0);
Buy=ExRem(Buy,Sell);
Sell=ExRem(Sell,Buy);
PlotShapes(IIf(Buy,shapeUpTriangle,shapeNone) ,colorBrightGreen);
PlotShapes(IIf(Sell,shapeDownTriangle,shapeNone),colorRed);
_SECTION_END();
4 comments
Leave Comment
Please login here to leave a comment.
Back