Stock Portfolio Organizer
The ultimate porfolio management solution.
Shares, Margin, CFD's, Futures and Forex
EOD and Realtime
Dividends and Trust Distributions
And Much More ....
For Portfolio Manager Click Here
WiseTrader Toolbox
#1 Selling Amibroker Plugin featuring:
Advanced Adaptive Indicators
Advanced Pattern Exploration
Neural Networks
And Much More ....
Find Out More Here
Swing Charts 3 Modes with Text for Amibroker (AFL)
This formula will allow you to view Gann Swing Charts in 3 different modes.
Mode 1 is a standard non GFX swing chart overlaid on price with text
Mode 2 is a GFX Version swing chart with GFX EMAs and text
Mode 3 is a Swing Chart that uses "Equal Width" swings and is not overlaid on price (with text).
The formula was designed for me by Marcin Gorzynski – Amibroker Support and has been altered in a small way by myself to suit my needs so there may be a few errors – beware.
Screenshots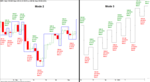 5 comments
Leave Comment
Please login here to leave a comment.
Back