Stock Portfolio Organizer
The ultimate porfolio management solution.
Shares, Margin, CFD's, Futures and Forex
EOD and Realtime
Dividends and Trust Distributions
And Much More ....
For Portfolio Manager Click Here
WiseTrader Toolbox
#1 Selling Amibroker Plugin featuring:
Advanced Adaptive Indicators
Advanced Pattern Exploration
Neural Networks
And Much More ....
Find Out More Here
Wyckoff method plus VSA v 2.0 for Amibroker (AFL)
Tags:
amibroker, Wyckoff, vsa
This formula basis Wyckoff original method additionally added VSA spots.
It help you understand the Wyckoffian phases of the market, you can determine when to be in or out of the market. You begin to understand how the large accounts determining market the trend, change of trend and price action.
Screenshots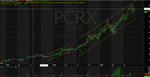 6 comments
Leave Comment
Please login here to leave a comment.
Back