Stock Portfolio Organizer
The ultimate porfolio management solution.
Shares, Margin, CFD's, Futures and Forex
EOD and Realtime
Dividends and Trust Distributions
And Much More ....
For Portfolio Manager Click Here
WiseTrader Toolbox
#1 Selling Amibroker Plugin featuring:
Advanced Adaptive Indicators
Advanced Pattern Exploration
Neural Networks
And Much More ....
Find Out More Here
T3B Or T.T.T.B for Amibroker (AFL)
Tags:
trading system, amibroker, exploration
T3B Or T.T.T.B For Amibroker 5.60 up
System with Exploration
You must be 5 slots , indicator
1.channel Blank Pane new high year
2.channel Blank Pane new high Month
3.channel Blank Pane Acc Volx2/3/4/5
4.channel Blank Pane Chart ( Chart have Options Parameters )
5.channel Blank Pane Kline ( is MACD)
Do not use the same channel
Use background color Black
links removed due to copyright
T3B Or T.T.T.B Have so quality. you need read Guide much
If you develop Better . Please share This
enjoy with T3B Or T.T.T.B
Screenshots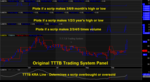 4 comments
Leave Comment
Please login here to leave a comment.
Back