Stock Portfolio Organizer
The ultimate porfolio management solution.
Shares, Margin, CFD's, Futures and Forex
EOD and Realtime
Dividends and Trust Distributions
And Much More ....
For Portfolio Manager Click Here
WiseTrader Toolbox
#1 Selling Amibroker Plugin featuring:
Advanced Adaptive Indicators
Advanced Pattern Exploration
Neural Networks
And Much More ....
Find Out More Here
Volume MACD for Amibroker (AFL)
Tags:
oscillator, amibroker
The VMACD (Volume Moving Average Convergence/Divergence) indicator shows the relationship between two moving averages of volume. VMACD is derived by dividing one moving average by another. It is based on the point spread difference between two exponential moving averages (EMA) of a security's volume, similar to the MACD where the closing price is used.
Screenshots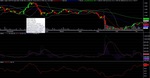 Similar Indicators / Formulas
Indicator / Formula
Copy & Paste Friendly
_SECTION_BEGIN("vol macd");
Diff = EMA (Volume,12) - EMA (Volume,26);

DEA = EMA (Diff,9);

Value3 = (Diff-DEA);

Plot (Diff, "Diff", 18,1);
Plot (DEA, "DEA",15,1);

Plot(Value3,"Vmacd",12,3);

_SECTION_END();

1 comments
Leave Comment
Please login here to leave a comment.
Back