Stock Portfolio Organizer
The ultimate porfolio management solution.
Shares, Margin, CFD's, Futures and Forex
EOD and Realtime
Dividends and Trust Distributions
And Much More ....
For Portfolio Manager Click Here
WiseTrader Toolbox
#1 Selling Amibroker Plugin featuring:
Advanced Adaptive Indicators
Advanced Pattern Exploration
Neural Networks
And Much More ....
Find Out More Here
RSI ZERO LAG INDICATOR for Amibroker (AFL)
Tags:
oscillator, amibroker
Hi friends as per your request i am posting the RSI indicator with zero lag and provided a buy and sell signal.The rsi parameters are changed to produce a bullish and bearish colour code.Always try to trade the divergences.Can be used in all timeframes.Hope you all enjoy and wishing you luck.
Prasad Muni
Screenshots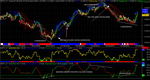 Similar Indicators / Formulas
Indicator / Formula
Copy & Paste Friendly
_SECTION_BEGIN("MODIFIED RSI ");
SetChartBkColor(ParamColor("Panel color ",colorBlack));
RP = Param("RSI",14,2,20,1);
UL= Param("Upper Limit",70,0,100,1);
LL= Param("Lower Limit",30,0,100,1);
PlotGrid(UL,colorBlue);    
PlotGrid(LL,colorBlue); 
R= RSIa(C, RP);
Plot(R, "MODIFIED RSI",  colorLime, styleThick);

Overbought=70;
Oversold=30;
Plot(Overbought,"Overbought Zone",colorBlue);
Plot(Oversold,"Oversold Zone",colorGreen);

Overbought=70;
Oversold=30;
Buy = Cross(R, Oversold) AND R > Oversold;
Sell = Cross(Overbought, R) AND R < Overbought;

PlotShapes(IIf(Sell, shapeDownArrow , shapeNone), colorRed);
PlotShapes(IIf(Buy, shapeUpArrow , shapeNone), colorGreen); 

_SECTION_END();

MaxGraph=10;
Period1=Param("Period 1", 10, 5, 50, 1);
Period2=Param("Period 2", 10, 5, 50, 1);
EMA1= EMA(R,Period1);
EMA2= EMA(EMA1,Period2);
Difference= EMA1 - EMA2;
ZeroLagEMA= EMA1 + Difference;
PR=abs(ZeroLagEMA); 

Graph0=PR;

MoveAvg=MA(PR,5);  

// Graph1=MoveAvg;          Remove the // if you want a Crossover MA to plot
// Graph1Color=colorTan;

Graph0Style=4;
upbar= PR>= MoveAvg AND PR>= Ref(PR,-1) ;
downbar=(PR < MoveAvg) OR PR>= MoveAvg AND PR< Ref(PR,-1) ;
barcolor = IIf( downbar,colorRed, IIf( upbar, colorBrightGreen, 7));
Graph0BarColor = ValueWhen( barcolor != 0, barcolor );
Graph2=30;
Graph3=70;

Graph2Style=Graph3Style=Graph4Style=1;
Graph4Color=2;
Graph2Color=5;
Graph3Color=4;
6 comments
Leave Comment
Please login here to leave a comment.
Back