Stock Portfolio Organizer
The ultimate porfolio management solution.
Shares, Margin, CFD's, Futures and Forex
EOD and Realtime
Dividends and Trust Distributions
And Much More ....
For Portfolio Manager Click Here
WiseTrader Toolbox
#1 Selling Amibroker Plugin featuring:
Advanced Adaptive Indicators
Advanced Pattern Exploration
Neural Networks
And Much More ....
Find Out More Here
Heikin Ashi for Amibroker (AFL)
Heikin-Ashi Candlesticks are similar to normal Japanese candlesticks but with a few differences to eliminate some of the noise. Heikin-Ashi Candlesticks combine the open-close prices from the previous period with the open-high-low-close data from the current period to create a new candlestick chart type. By combining the two together the new candlestick chart is able to filter out some of the noise present in the price. Heikin-Ashi candlestick can be used to quickly identify periods of trend and potential points of reversal.
Screenshots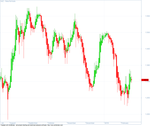 Similar Indicators / Formulas
Indicator / Formula
Copy & Paste Friendly
SetChartOptions(0,chartShowArrows | chartShowDates);

HaClose = (O + H + L + C)/4; 
HaOpen = AMA( Ref( HaClose, -1 ), 0.5 ); 
HaHigh = Max( H, Max( HaClose, HaOpen ) ); 
HaLow = Min( L, Min( HaClose, HaOpen ) ); 
xDiff = (HaHigh - Halow) * 10000;
barcolor = IIf(HaClose >= HaOpen,colorGreen,colorRed);
PlotOHLC( HaOpen, HaHigh, HaLow, HaClose, "", barcolor, styleCandle );
25 comments
Leave Comment
Please login here to leave a comment.
Back