Stock Portfolio Organizer
The ultimate porfolio management solution.
Shares, Margin, CFD's, Futures and Forex
EOD and Realtime
Dividends and Trust Distributions
And Much More ....
For Portfolio Manager Click Here
WiseTrader Toolbox
#1 Selling Amibroker Plugin featuring:
Advanced Adaptive Indicators
Advanced Pattern Exploration
Neural Networks
And Much More ....
Find Out More Here
heikin ashi with KPL system for Amibroker (AFL)
Tags:
trading system, amibroker, heikin
heikin ashi combination with KPL swing making it very powerful swing trading system
Screenshots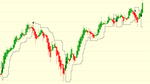 Similar Indicators / Formulas
Indicator / Formula
Copy & Paste Friendly
//---- heikin ashi
HaClose = (O+H+L+C)/4; 
HaOpen = AMA( Ref( HaClose, -1 ), .40); 
HaHigh = Max( H, Max( HaClose, HaOpen ) ); 
HaLow = Min( L, Min( HaClose, HaOpen ) ); 
xDiff = (HaHigh - Halow) * IIf(StrFind(Name(),"JPY"),100,10000);
barcolor = IIf(HaClose >= HaOpen,colorGreen,colorRed);
PlotOHLC( HaOpen, HaHigh, HaLow, HaClose, "", barcolor, styleCandle ); 
// Plot(EMA(HaClose,9),"",colorWhite, styleLine);
// Plot(EMA(HaClose,18),"",colorBlack, styleLine);
_SECTION_BEGIN("KPL Swing");
//Copyright Kamalesh Langote. Email:kpl@vfmdirect.com. More details at http://www.vfmdirect.com/kplswing
//Save indicator as "kplswing.afl" in C: program files > Amibroker > Formulas > Custom folder and then drap and drop on price chart
no=Param( "Swing", 20, 1, 55 );
tsl_col=ParamColor( "Color", colorCycle );

res=HHV(H,no);
sup=LLV(L,no);
avd=IIf(C>Ref(res,-1),1,IIf(C<Ref(sup,-1),-1,0));
avn=ValueWhen(avd!=0,avd,1);
tsl=IIf(avn==1,sup,res);

Plot(tsl, _DEFAULT_NAME(), tsl_col, styleStaircase); // or styleaArea

Buy=Cross(C,tsl);
Sell=Cross(tsl,C);
shape=Buy*shapeUpArrow + Sell*shapeDownArrow;
PlotShapes(shape,IIf(Buy,tsl_col,tsl_col),0,IIf(Buy,Low,High));
_SECTION_END();
4 comments
Leave Comment
Please login here to leave a comment.
Back