Stock Portfolio Organizer
The ultimate porfolio management solution.
Shares, Margin, CFD's, Futures and Forex
EOD and Realtime
Dividends and Trust Distributions
And Much More ....
For Portfolio Manager Click Here
WiseTrader Toolbox
#1 Selling Amibroker Plugin featuring:
Advanced Adaptive Indicators
Advanced Pattern Exploration
Neural Networks
And Much More ....
Find Out More Here
Acceleration Bands for Metastock
Price Headley's Acceleration Bands serve as a trading envelope that factor in a stock's typical volatility over standard settings of 20 or 80 bars. They can be used across any time period, though Headley prefers to use them most across weekly and monthly timeframes as breakout indicators outside these bands. Using the shorter time frames can define likely support and resistance levels at the lower and upper Acceleration Bands.
Acceleration Bands are plotted around a simple moving average as the midpoint, and the upper and lower bands are of equal distance from this midpoint.
Source: Metastockusers[at]yahoogroups[dot]com
Screenshots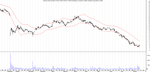 Files
Indicator / Formula
0 comments
Leave Comment
Please login here to leave a comment.
Back