Stock Portfolio Organizer
The ultimate porfolio management solution.
Shares, Margin, CFD's, Futures and Forex
EOD and Realtime
Dividends and Trust Distributions
And Much More ....
For Portfolio Manager Click Here
WiseTrader Toolbox
#1 Selling Amibroker Plugin featuring:
Advanced Adaptive Indicators
Advanced Pattern Exploration
Neural Networks
And Much More ....
Find Out More Here
Kaufman's Adaptive Moving Average (KAMA) for Metastock
Tags:
metastock, moving average
Developed by Perry Kaufman, Kaufman's Adaptive Moving Average (KAMA) is a moving average designed to account for market noise or volatility. KAMA will closely follow prices when the price swings are relatively small and the noise is low. KAMA will adjust when the price swings widen and follow prices from a greater distance. This trend-following indicator can be used to identify the overall trend, time turning points and filter price movements.
You can manually create the formula in Metastock or import the file.
Screenshots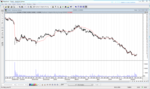 Files
Indicator / Formula
Copy & Paste Friendly
Period := Input("Period",1,10000,20);
sc := Abs(RSI(Period)/100 - .5)*2;
If(Cum(1) <= Period, CLOSE, PREV + sc*(CLOSE - PREV))
0 comments
Leave Comment
Please login here to leave a comment.
Back