Stock Portfolio Organizer
The ultimate porfolio management solution.
Shares, Margin, CFD's, Futures and Forex
EOD and Realtime
Dividends and Trust Distributions
And Much More ....
For Portfolio Manager Click Here
WiseTrader Toolbox
#1 Selling Amibroker Plugin featuring:
Advanced Adaptive Indicators
Advanced Pattern Exploration
Neural Networks
And Much More ....
Find Out More Here
Advance/Decline Divergence Oscillator for Metastock
Tags:
metastock, oscillator
This oscillator plots the percentage difference between the close price and and the time series forecast. Values over 0 indicate that the price is moving away from the forecasted price and into the overbought territory. Values less then 0 indicate the price is moving into the oversold range as it is less then the forecast.
Screenshots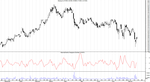 Files
Indicator / Formula
Copy & Paste Friendly
cv:= Input("Time Periods of TSF -",5,100,14);
((CLOSE - TSF(CLOSE, cv))/ TSF(CLOSE, cv)* 100)
0 comments
Leave Comment
Please login here to leave a comment.
Back