Stock Portfolio Organizer
The ultimate porfolio management solution.
Shares, Margin, CFD's, Futures and Forex
EOD and Realtime
Dividends and Trust Distributions
And Much More ....
For Portfolio Manager Click Here
WiseTrader Toolbox
#1 Selling Amibroker Plugin featuring:
Advanced Adaptive Indicators
Advanced Pattern Exploration
Neural Networks
And Much More ....
Find Out More Here
Ease of Movement (EOM) by Richard Arms for Metastock
Tags:
metastock, oscillator
The Ease of Movement (EOM) indicator is a volume based oscillator. It is designed to measure the relationship between price and volume and display that relationship as an oscillator that fluctuates between positive and negative values. The EOM moves above and below a zero line. This is done in order to show the "ease" of price movements. Generally it is understood that when the EOM is in positive territory, prices are advancing with relative ease. When the EOM is negative, prices are declining with relative ease.
Screenshots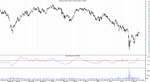 Files
Indicator / Formula
0 comments
Leave Comment
Please login here to leave a comment.
Back