Stock Portfolio Organizer
The ultimate porfolio management solution.
Shares, Margin, CFD's, Futures and Forex
EOD and Realtime
Dividends and Trust Distributions
And Much More ....
For Portfolio Manager Click Here
WiseTrader Toolbox
#1 Selling Amibroker Plugin featuring:
Advanced Adaptive Indicators
Advanced Pattern Exploration
Neural Networks
And Much More ....
Find Out More Here
Automatic Trendline Formula for Metastock
Tags:
metastock, trendline
This formula will draw a trend-line from the most recent bottom. If you want you can replace 'L' (low price) to something else like 'C' (the close price) and the value 10 can be changed to a different percent value. You will also need to set the line style to thick dots to make it look like the screenshot.
Screenshots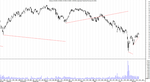 Files
Indicator / Formula
Copy & Paste Friendly
Trough(1,L,10) + ((((Trough(1,L,10)-Trough(2,L,10)) /
(TroughBars(2,L,10)-TroughBars(1,L,10))) * TroughBars(1,L,10))) 
0 comments
Leave Comment
Please login here to leave a comment.
Back