Stock Portfolio Organizer
The ultimate porfolio management solution.
Shares, Margin, CFD's, Futures and Forex
EOD and Realtime
Dividends and Trust Distributions
And Much More ....
For Portfolio Manager Click Here
WiseTrader Toolbox
#1 Selling Amibroker Plugin featuring:
Advanced Adaptive Indicators
Advanced Pattern Exploration
Neural Networks
And Much More ....
Find Out More Here
Bang For The Buck for Metastock
This indicator shows the possible dollar return (on a $10,000 account) for
a security on any given period. This is calculated by dividing a $10,000 account by the closing price. This number is then multiplied by the average range of the security for the last 200 periods. The interpretation is such that the higher the value, the higher the profit potential.
Screenshots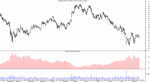 Files
Indicator / Formula
0 comments
Leave Comment
Please login here to leave a comment.
Back