Stock Portfolio Organizer
The ultimate porfolio management solution.
Shares, Margin, CFD's, Futures and Forex
EOD and Realtime
Dividends and Trust Distributions
And Much More ....
For Portfolio Manager Click Here
WiseTrader Toolbox
#1 Selling Amibroker Plugin featuring:
Advanced Adaptive Indicators
Advanced Pattern Exploration
Neural Networks
And Much More ....
Find Out More Here
Woodies CCI - Intraday for Amibroker (AFL)
Tags:
oscillator, amibroker, exploration
Here is Woodie's CCI Intaday panel which was originally coded by Crasher_FL and Wring. It is a modified Daily CCI Panel with the CCI14 and CC6. It is complete with pattern recognition,backtesting, scanning, and exploration options. The Pattern Recognition helps find the ZLR, HFE,GB100, VT,FAMIR,MR and Choppy (Chop mode being defined as the CCI bars inbetween the 100's for 10 or more bars. The reset out of chop is when the CCI hooks from extreme at the 200's). . The pattern recognition is located at the top left corner next to "Signal: ".
Screenshots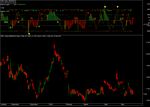 Similar Indicators / Formulas
17 comments
Leave Comment
Please login here to leave a comment.
Back