Stock Portfolio Organizer
The ultimate porfolio management solution.
Shares, Margin, CFD's, Futures and Forex
EOD and Realtime
Dividends and Trust Distributions
And Much More ....
For Portfolio Manager Click Here
WiseTrader Toolbox
#1 Selling Amibroker Plugin featuring:
Advanced Adaptive Indicators
Advanced Pattern Exploration
Neural Networks
And Much More ....
Find Out More Here
Trend Swing for Amibroker (AFL)
This swing is NOT based on percentage OR logarithmic changes of the Price.
Swing segments are triggered by the current Price (Close) > OR < than an average Price (Close) for a specified Period.
Additionally, a minimum number of bars can be set to make a swing segment valid.
Triggers can be turned on/ off (small triangles above High OR Low).
Swing Pivots can be annotated (on/off) with: change in value, % change, AND length of the swing segment in bars.
Swing color is NOT based on segments.
If the resistance is taken out (previous Peak) the Trend is up. If the support is taken out (previous Trough) the Trend is down.
Screenshots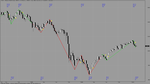 Similar Indicators / Formulas
3 comments
Leave Comment
Please login here to leave a comment.
Back