Stock Portfolio Organizer
The ultimate porfolio management solution.
Shares, Margin, CFD's, Futures and Forex
EOD and Realtime
Dividends and Trust Distributions
And Much More ....
For Portfolio Manager Click Here
WiseTrader Toolbox
#1 Selling Amibroker Plugin featuring:
Advanced Adaptive Indicators
Advanced Pattern Exploration
Neural Networks
And Much More ....
Find Out More Here
Tags:
trading system, amibroker
THE OHLC were modified on EMA. The default parameters work perfect. The green candles
represent increase in price with spike in volume on EMA smooth basis.The squares
represent MACD crossovers.The near accurate buy and sell signals are generated.
The green candle kissing the green line seems to be a good buy and the red candle
kissing the red line seems to be a good sell.The teal coloured candles represent
transition between green to red.Some times the earlier trend may also continue.
wait for confirmation of colour change from green to red or red to green.The back
test results seem to be VERY GOOD. PLEASE EXCLUDE THE HEAVY MINUS PERCENT RESULTS
THAT OCCUR DUE TO HEAVY PRICE DROP LIKE SPLITTING OF STOCK, WHILE JUDGING THE
BACK TEST RESULTS. Hope you like it. KINDLY RATE IT.
Screenshots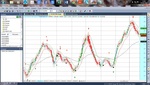 Similar Indicators / Formulas
Indicator / Formula
Copy & Paste Friendly
MYPERIOD=Param("MYPERIOD",5,5,10,1);
MYO=EMA(O,MYPERIOD);
MYH=EMA(H,MYPERIOD);
MYL=EMA(L,MYPERIOD);
MYC=EMA(C,MYPERIOD)*OBV()/Ref(OBV(),-1);
MYCC=EMA(C,MYPERIOD);
MYV=EMA(V,MYPERIOD);
MYAVG=(MYO+MYH+MYL+MYC)/4;

PlotOHLC(MYO,MYH,MYL,MYCC,"SARVANI.V5 ",IIf((V>Ref(MYV,-1) AND MYC>MYO),colorGreen,IIf(MYC<MYO,colorRed,colorTeal)),styleCandle);
PlotPR=Param("plotperiod",6,5,10,1);
Plot(EMA(MYH,PlotPR),"",colorGreen,styleLine,0,0);
Plot(EMA(MYL,PlotPR),"",colorRed,styleLine,0,0);
RESIS=Param("MAJOR RESISTANCE",60,30,80,1);
Plot(EMA(MYC,RESIS),"",colorBlack,styleLine,0,0);

Buy=V>Ref(MYV,-1) AND MYC>MYO AND Ref(MYC,-1)>Ref(MYO,-1) AND MYC>Ref(MYC,-1) AND MYL>Ref(MYL,-1) AND C>O AND EMA(MYC,2)>EMA(MYC,4);
Sell=MYL<Ref(LLV(MYL,4),-1);
Buy=ExRem(Buy,Sell);
Sell=ExRem(Sell,Buy);




PlotShapes(Buy*shapeUpArrow,colorGreen,Layer=0,yposition=MYL,Offset=-50);
PlotShapes(Sell*shapeDownArrow,colorRed,Layer=0,yposition=MYH,Offset=-30);


IND=Cross(MACD(),Signal());
PlotShapes(IND*shapeSmallSquare,colorBlack,0,yposition=L,Offset=-30);
IND1=Cross(Signal(),MACD());
PlotShapes(IND1*shapeSmallSquare,colorOrange,0,Yposition=H,Offset=60);



Title = Name() + " " + Date()+" " + EncodeColor( colorBlue ) +"**SARVANI.V5***" +EncodeColor( colorRed )
+ " OPEN.... " + O + "... HIGH... " + H + "... LOW... " + L + " ...CLOSE.... "+ Close + "...VOLUME INC. %..." + ((V-EMA(V,3))/EMA(V,3))*100 + "\n";
8 comments
Leave Comment
Please login here to leave a comment.
Back