Stock Portfolio Organizer
The ultimate porfolio management solution.
Shares, Margin, CFD's, Futures and Forex
EOD and Realtime
Dividends and Trust Distributions
And Much More ....
For Portfolio Manager Click Here
WiseTrader Toolbox
#1 Selling Amibroker Plugin featuring:
Advanced Adaptive Indicators
Advanced Pattern Exploration
Neural Networks
And Much More ....
Find Out More Here
Guppy GMMA with "derived" Indicator for Amibroker (AFL)
Tags:
amibroker, moving average
The usual Guppy GMMA with some "derived" NORMALIZED Indicators. Normalization is required to allow comparison between tickers.
Added indicators are:
Compressions:
a) "Traders Compression" measure the "width" of the Traders Guppy EMAs, related to the EMA
b) "Investors Compression", same as above, for the long term Guppy EMAs.
c) "TOTAL Compression", measures the whole Guppy GMMA related to the EMA. This is NOT the same of the sum of the above mentioned compressions.
Guppy Sonar: measures the "gap", that is the distance, between the two Guppy EMAs, that is bw the longer Traders EMA and the shortest Investors EMA, again normalized with EMAONLY . Can be used more or less as a MACD. If the plotted histogram is positive means that the Traders EMAs is above the Investors EMAs so the trend is positive. Conversely if the plotted histogram is negative.
The original idea is from an Italian trader, Giovanni Trombetta, owner of the http://www.intradewetrust.com/ site (in Italian only).
The Pane can display alternatively (see figure):
a) usual Guppy GMMA (light grey background color)
b) Compression Indicators
c) Guppy Sonar indicator
Screenshots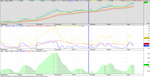 Similar Indicators / Formulas
8 comments
Leave Comment
Please login here to leave a comment.
Back