Stock Portfolio Organizer
The ultimate porfolio management solution.
Shares, Margin, CFD's, Futures and Forex
EOD and Realtime
Dividends and Trust Distributions
And Much More ....
For Portfolio Manager Click Here
WiseTrader Toolbox
#1 Selling Amibroker Plugin featuring:
Advanced Adaptive Indicators
Advanced Pattern Exploration
Neural Networks
And Much More ....
Find Out More Here
Sum of Risks for Amibroker (AFL)
Tags:
amibroker, histogram
I cannot take credit for this indicator, and I can no longer find the name of the creator.
This indicator is based on multiple indicators. It creates a ribbon at the bottom of the chart below the histogram bars.
Towards the end of the code, the line, "Plot(K, "ribbon", Color, styleOwnScale|styleArea|styleNoLabel, -1,15);" can be blanked out using "//" at the beginning of that line to hide the histogram bars. This will leave only the ribbon which can be plotted on a price chart or in any other indicator pane.
The very last line of code can be changed as follows:
Plot(1, "ribbon2", Color2, styleOwnScale|styleArea|styleNoLabel, -.15, 1);
By doing this, it creates a ribbon that will fill the entire pane. You can then plot any indicator on top of it.
Screenshots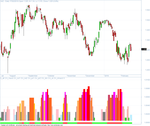 Similar Indicators / Formulas
1 comments
Leave Comment
Please login here to leave a comment.
Back