Stock Portfolio Organizer
The ultimate porfolio management solution.
Shares, Margin, CFD's, Futures and Forex
EOD and Realtime
Dividends and Trust Distributions
And Much More ....
For Portfolio Manager Click Here
WiseTrader Toolbox
#1 Selling Amibroker Plugin featuring:
Advanced Adaptive Indicators
Advanced Pattern Exploration
Neural Networks
And Much More ....
Find Out More Here
Klinger Volume Oscillator for Amibroker (AFL)
Tags:
oscillator, amibroker
The KO was developed by Stephen J. Klinger with two seemingly opposite goals in mind: to be sensitive enough to signal short-term tops and bottoms, yet accurate enough to reflect the long-term flow of money into and out of a security.
Mr. Klinger recommends the following guidelines for using the KO:
1. The most reliable signals occur in the direction of the prevailing trend. Strict stop guidelines (i.e., failure to penetrate the zero line or a violation of the trigger line) should remain in force. 2. The most important signal occurs when the KO diverges with the underlying price action, especially on new highs or new lows in overbought/oversold territory. For example, when a stock makes a new high or low for a cycle and the KO fails to confirm this, the trend may be losing momentum and nearing completion. 3. If the price is in an uptrend (i.e., above an 89-day exponential moving average), buy when the KO drops to unusually low levels below zero, turns up, and crosses its trigger line. If the price is in a downtrend (i.e., below an 89-day exponential moving average), sell when the KO rises to unusually high levels above zero, turns down, and crosses its trigger line.
Screenshots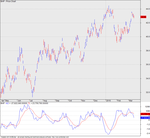 Similar Indicators / Formulas
11 comments
Leave Comment
Please login here to leave a comment.
Back