Stock Portfolio Organizer
The ultimate porfolio management solution.
Shares, Margin, CFD's, Futures and Forex
EOD and Realtime
Dividends and Trust Distributions
And Much More ....
For Portfolio Manager Click Here
WiseTrader Toolbox
#1 Selling Amibroker Plugin featuring:
Advanced Adaptive Indicators
Advanced Pattern Exploration
Neural Networks
And Much More ....
Find Out More Here
Aroon Oscillator for Amibroker (AFL)
Tags:
oscillator, amibroker
Aroon Oscillator
The oscillator quickly finds out the trend stop and the start of sideways trend in horizontal interval, and vice versa. Aroon Oscillator is calculated as the difference of Aroon Up and Aroon Down. A strongly growing trend should be expected if the value of Aroon Oscillator exceeds 40 to 100. An evident sinking trend can be expected when the values of Aroon Oscillator are between -40 and -100.
Making decisions when working with the Aroon Oscillator is clear and easy: buy, if the oscillator goes from negative to positive area, and sell, if vice versa.
Screenshots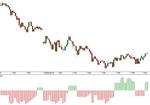 Similar Indicators / Formulas
2 comments
Leave Comment
Please login here to leave a comment.
Back