Stock Portfolio Organizer
The ultimate porfolio management solution.
Shares, Margin, CFD's, Futures and Forex
EOD and Realtime
Dividends and Trust Distributions
And Much More ....
Find Out More Here
WiseTrader Toolbox
#1 Selling Amibroker Plugin featuring:
Advanced Adaptive Indicators
Advanced Pattern Exploration
Neural Networks
And Much More ....
Find Out More Here
RSI of volume weighted moving average for Amibroker (AFL)
Tags:
oscillator, amibroker, rsi
This afl uses the RSIa function upon a volume weighted moving average. There are parameters to adjust the RSIa periods, VWMA periods and an additional ema smoothing period. I think Bollinger liked the 9 period RSI and a couple of double bottoms below 30.
Screenshots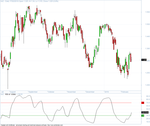 Similar Indicators / Formulas
Indicator / Formula
Copy & Paste Friendly
_SECTION_BEGIN("RSI of a Volume weighted moving average");

periods=Param("VWMA periods ",5,2,200,1);

smoothing=Param("exp. smoothing of VWMA",3,2,200,1);
rsiperiods=Param("rsi periods",9,2,200,1);
Vwma = Sum((Volume*Close),periods)/Sum (Volume,periods);
svwma=EMA(Vwma,smoothing);
Plot(RSIa(SVwma,rsiperiods),"RSI of  VWMA ",colorBlack,styleLine);
Plot(70,"",colorRed,styleLine);
Plot(30,"",colorGreen,styleLine);

_SECTION_END();
0 comments
Leave Comment
Please login here to leave a comment.
Back