Stock Portfolio Organizer
The ultimate porfolio management solution.
Shares, Margin, CFD's, Futures and Forex
EOD and Realtime
Dividends and Trust Distributions
And Much More ....
For Portfolio Manager Click Here
WiseTrader Toolbox
#1 Selling Amibroker Plugin featuring:
Advanced Adaptive Indicators
Advanced Pattern Exploration
Neural Networks
And Much More ....
Find Out More Here
Cycle Highlighter for Amibroker (AFL)
Tags:
oscillator, amibroker, cycle
Derived from Millard's "Tribute to J M Hurst" book, using centered MAs to
visualize the cyclic components and a 'best fit' sine wave (red) to
extrapolate to the right-hand edge.
The sine wave is anchored at the most recent trough or peak in the cycle
highlighter line. The red and blue spikes show the start point of each plot
as far as the correlation goes. Change the "Best fit # recent cycles"
parameter to move these. In the title, the first correlation number (blue)
is the correlation coefficient between the cycle highlighter and the fitted
sine wave in the best fit 'window' and the red number in brackets is the
correlation between the price and the sine wave over the projected end
period (from where the cycle highlighter stops to the right-edge).
Screenshots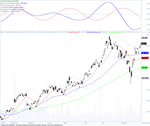 Similar Indicators / Formulas
6 comments
Leave Comment
Please login here to leave a comment.
Back